Following the successful COMULIS conferences in Austria and Sweden, the 3rd Annual Conference of the COMULIS COST Action took place as an in-person event, on 21-22 September 2022, in Nicosia, Cyprus. The COMULIS Conference preceded by a day dedicated to COMULIS internal Working Group and Management Committee meetings, to work on joint deliverables and objectives. The conference program offers an attractive combination of oral presentations and posters from electron and light microscopy, X-ray, MRI/PET scans to image analysis, and correlated multimodal imaging in synchrotron radiation facilities, with selected poster presenters, invited for short flash talks. It also provided opportunities for discussions and informal gatherings. Emphasis is on correlative imaging methods (CMI) able to capture the dynamics of life, spanning the whole range from molecular resolution to imaging whole organisms. Industry talks are included and provide opportunities to discuss marketable solutions in CMI and cross-corporate workflows to facilitate multimodal imaging.
---
On Thursday, 25th of November 2021, Mr Valery Freland, Executive Director of ALIPH (Alliance Internationale pour la Protection du Patrimoine Dans les Zones de Conflit), Mr. Jean-Luc Martinez, Ambassador in charge of International Cooperation in the field of Heritage, and Former Director of the Louvre Museum from 2013 to 2021, and Mr. Emmanuel Mouriez, a representative from the French Embassy, visited CyI's premises in Athalassa. ALIPH is the only global fund exclusively dedicated to the protection and rehabilitation of cultural heritage in conflict zones and post-conflict situations. The Cyprus Institute and its regional cultural heritage activities, as well as the Institute's connections with French research Institutions, were presented briefly to the visitors. The delegation was also given a short, guided tour of Human Bioarchaeology laboratory. The work of Lorentz's research group, the BioMERA project, and synchrotron radiation-enabled bioarchaeology were introduced to the visitors.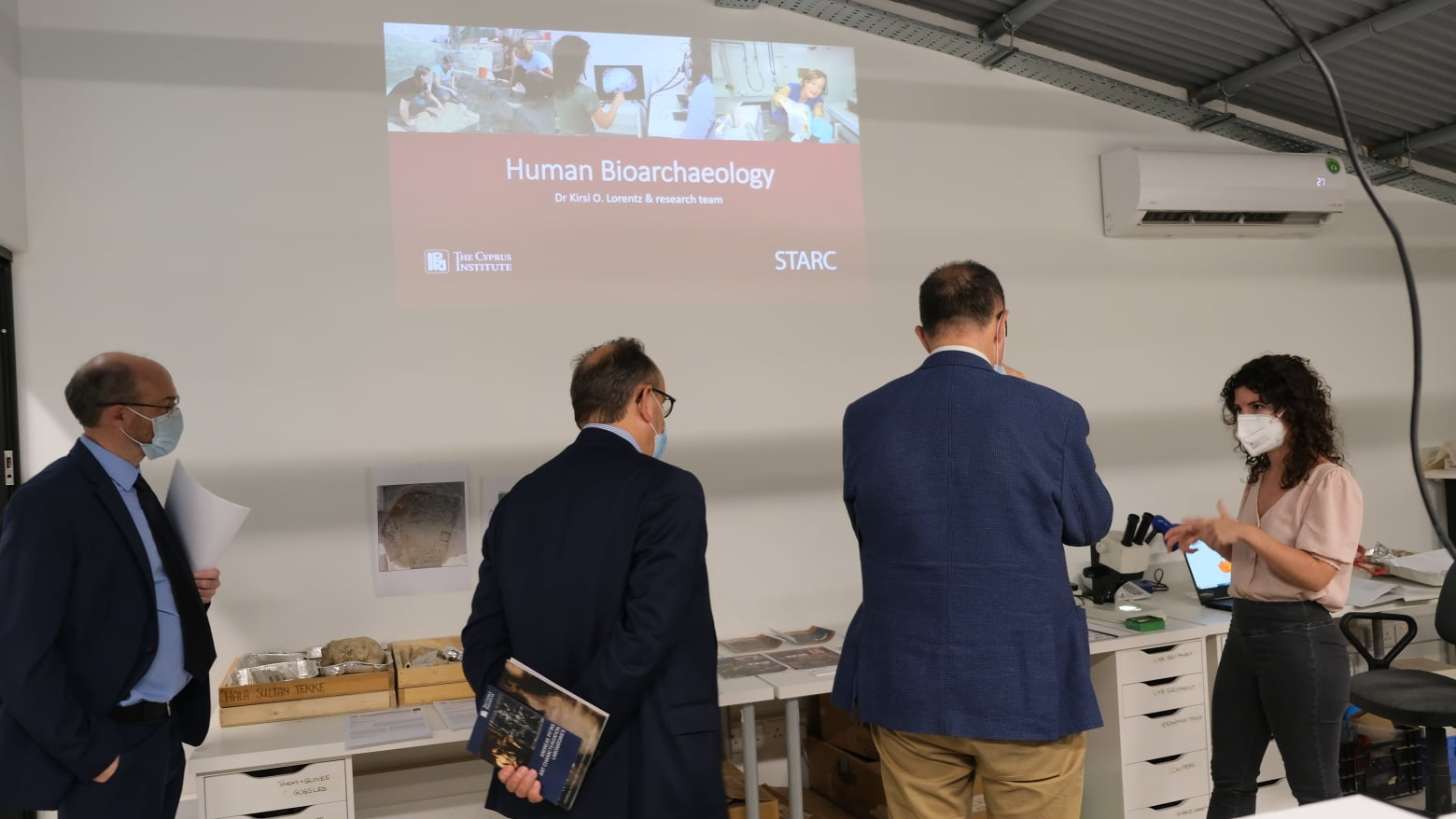 ---
On Monday, 15th of November 2021, the President of Karaiskakio Foundation (Καραϊσκάκειο Ίδρυμα), and Member of the CREF Board of Trustees, Dr Popi Nicolaidou Kanari, visited The Cyprus Institute's premises. Karaiskakio Foundation is a non - profit organization established with the purpose of organizing a volunteer Bone Marrow Donor Registry. It combines volunteering and specialized scientific support, in order to serve the needs of patients with haematological malignancies both effectively and efficiently. She was given a briefing on the Institute's current research and educational activities, as well as a guided tour of CyI campus and laboratories. She also visited the Human Bioarchaeology laboratory and learned about the work of Lorentz's research group, the BioMERA project, and synchrotron radiation-enabled bioarchaeology.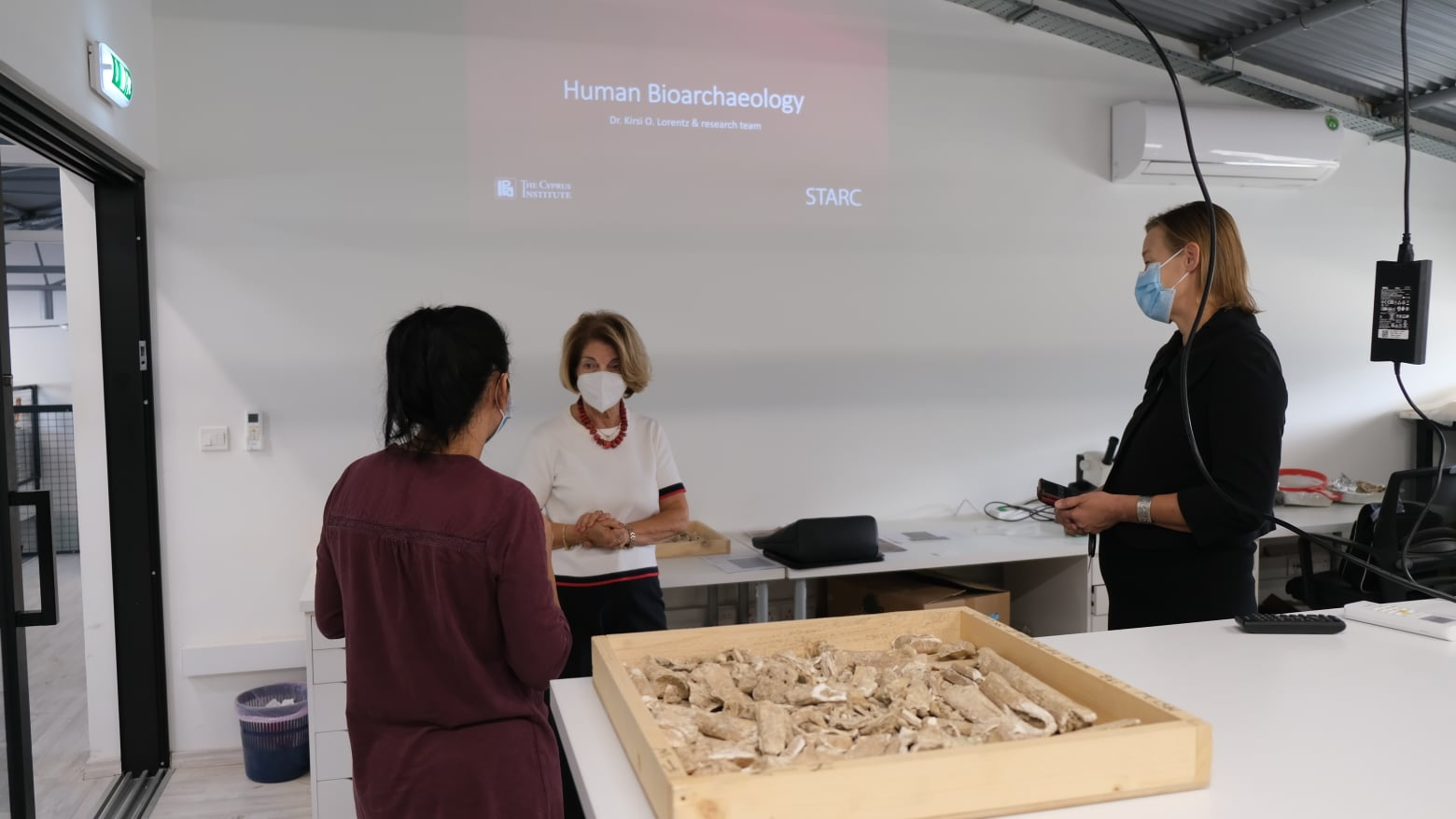 ---
On Friday, 9th of April 2021, the Ambassador of Finland in Cyprus, H.E. Mr. Harri Mäki-Reinikka and Ms. Emilia Pussinen, visited The Cyprus Institute's premises to discuss the possibility of cooperation in areas with a common interest. The discussion centered around the strategic collaboration of CyI with the University of Helsinki, and in this context, the ambassador also met with the BioMERA Principal Investigator Dr. Kirsi Lorentz, who is herself Finnish. The Ambassador visited the Human Bioarchaeology laboratory and learned about the work of Lorentz's research group, the BioMERA project, and synchrotron radiation-enabled bioarchaeology.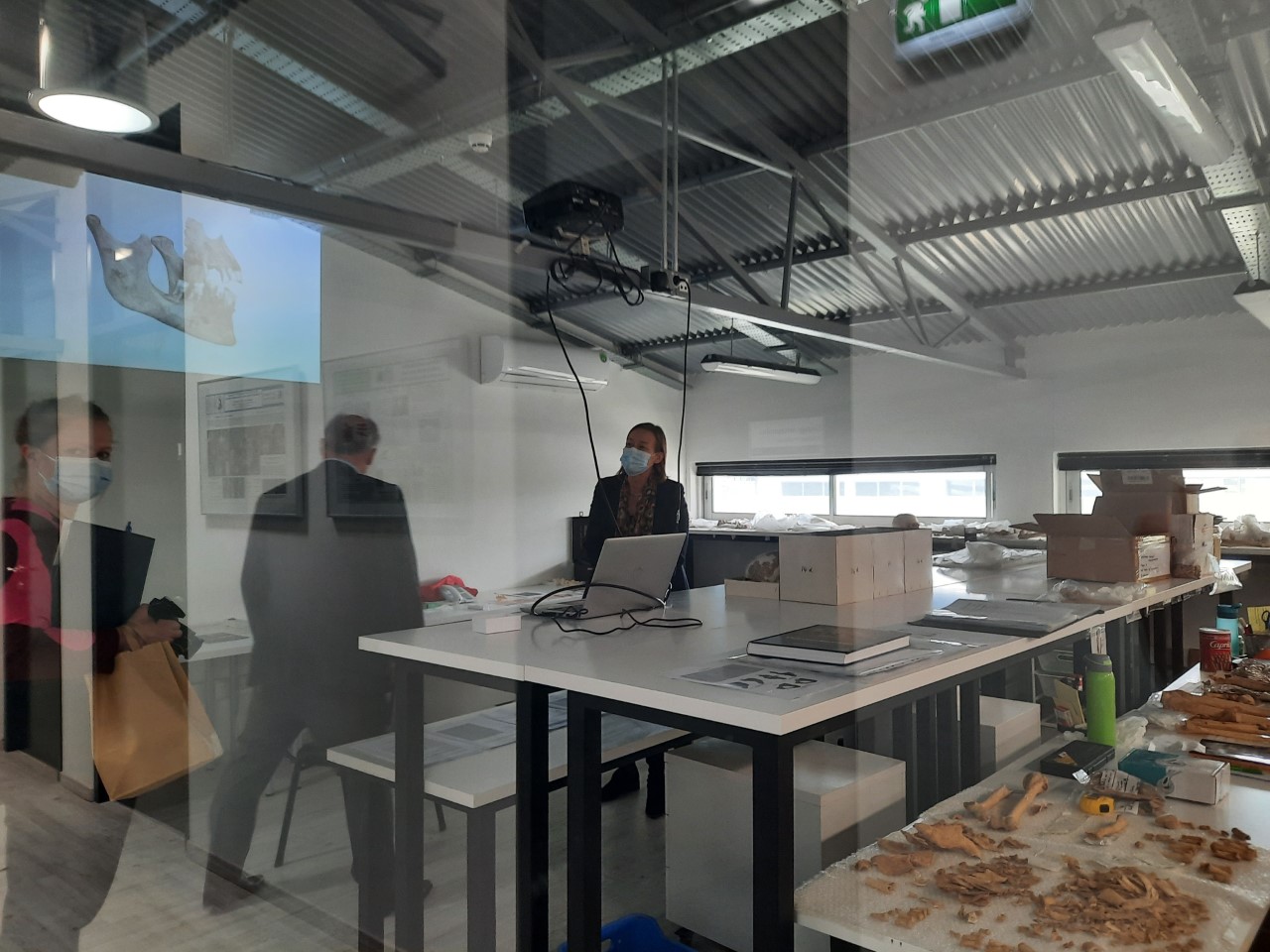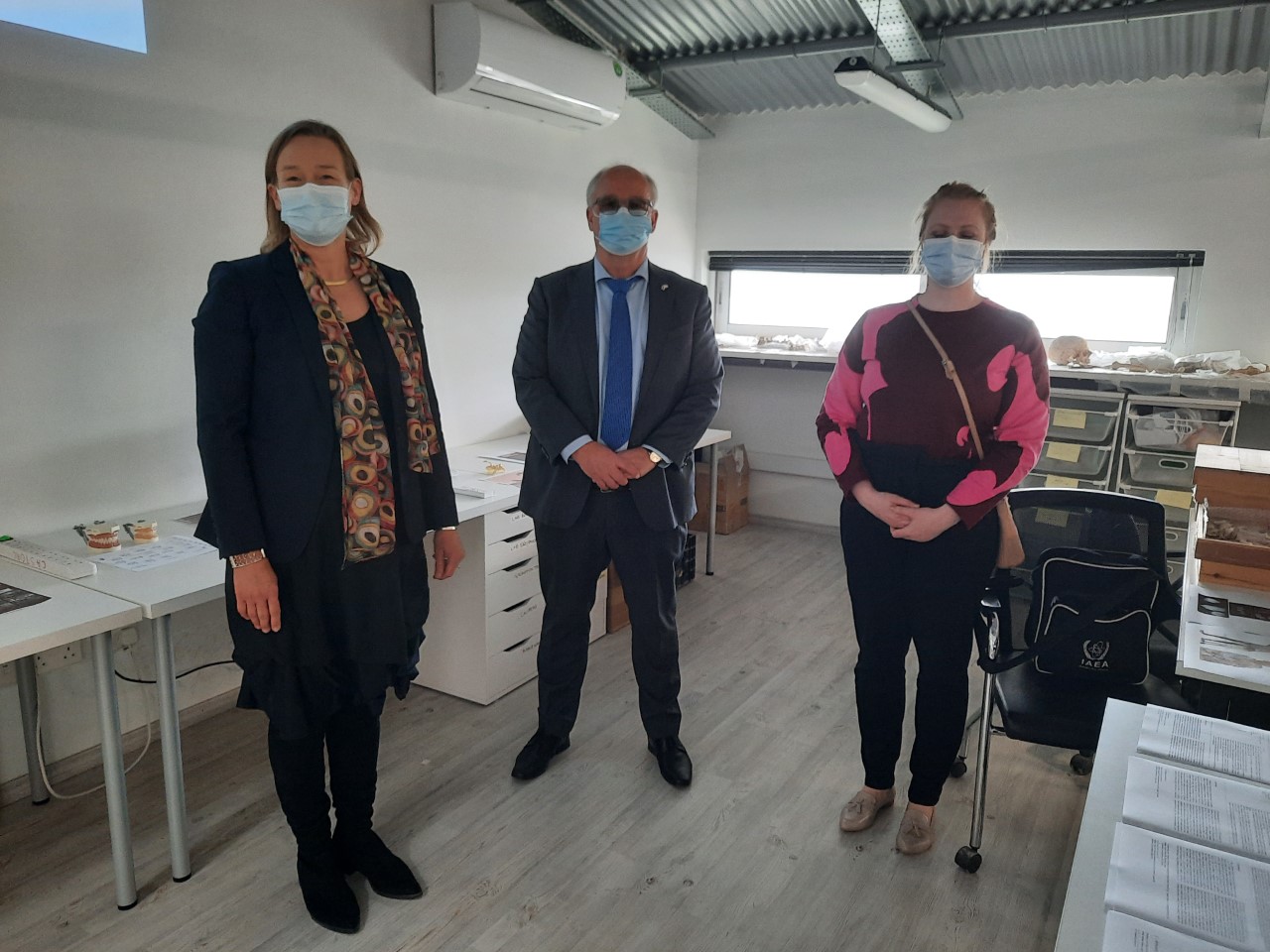 ---
Welcoming our new BioMERA RTS
The BioMERA consortium is pleased to welcome the new BioMERA Research Technical Specialist, Dr Anis Fatima. Photo shows Dr Fatima in an online BioMERA project meeting with members of the BioMERA teams at the Cyprus Institute, and at Elettra.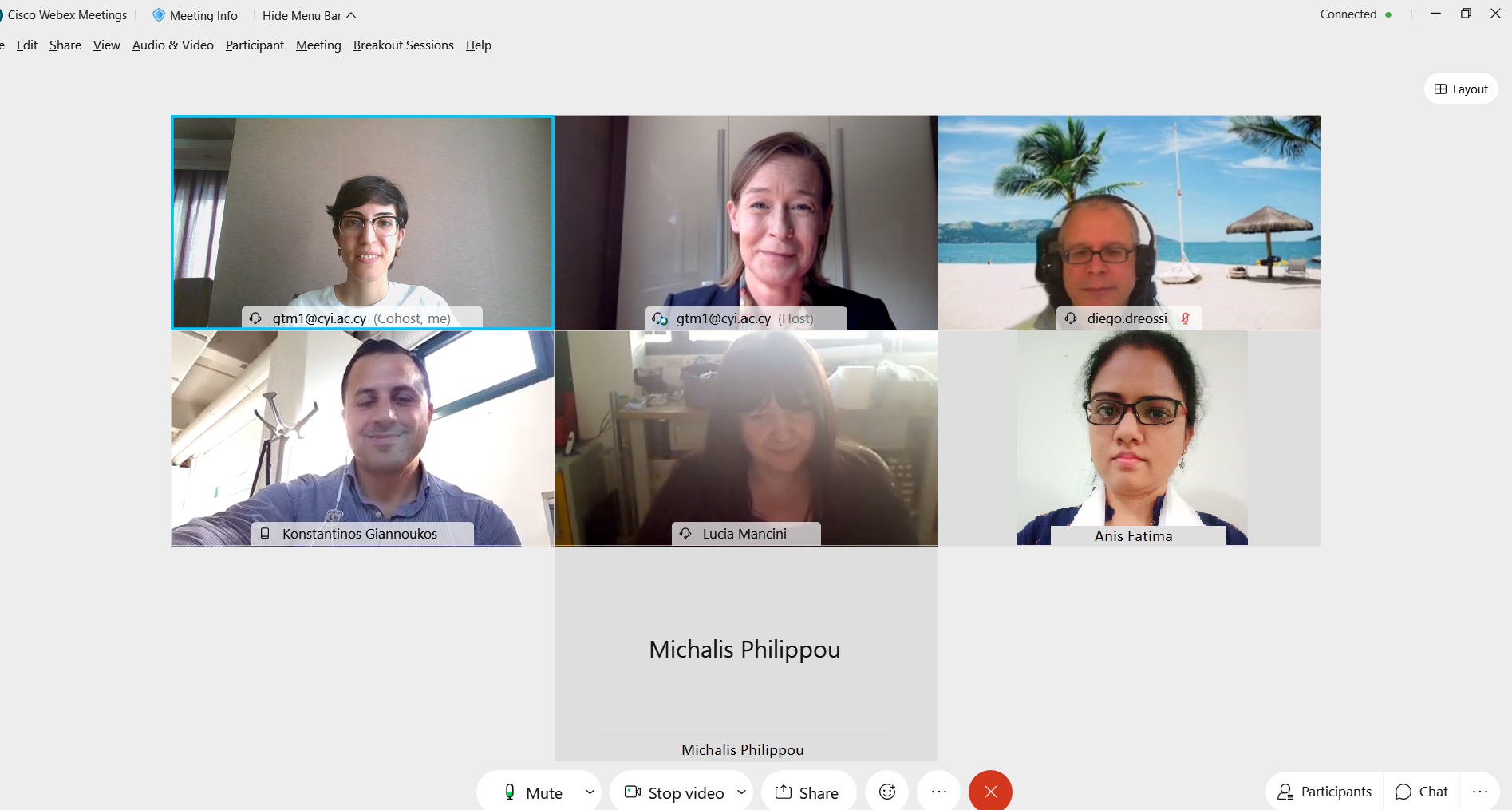 ---
Meet our BioMERA Interns
The BioMERA team at the Cyprus Institute has excitedly welcomed a number of talented interns to assist with the reconstruction of the lives of your Cypriot ancestors. Our internship program has provided the opportunity for interested individuals to learn new skills, become better connected and to engage with the past. Learn more about our interns and their interests below : 
Christos Dereschuk
Christos holds a BS in Biochemistry at the University of California, Los Angles, and currently studies MS in Biotechnology, with concentrations in Bioinformatics and Biotechnology Enterprise at Johns Hopkins Univesity. He is passionate about biomedical research and hopes to be involved in the elucidation of molecular mechanisms as well as the development of therapeutics to treat diseases such as cancer and inflammatory disorders. He is currently taking part in the BEATS project by helping to expand our scientific professionals' guest list under the supervision of Dr Kirsi Lorentz, Ms Sıla Kayalp. He also put together a meticulous presentation on the Correlated Multimodal Imaging in Life Sciences (COMULIS) project, inspiring both the young and old to learn more about this technology and science in general. Moreover, he is working on Dr Lorentz's research project, studying fungal hyphae filaments (November-December 2020).
---
---
 BioMERA 'Home Offices' and Project Progress

 

BioMERA - CyI team in their home offices: (from left to right, top to bottom) Dr. Kirsi Lorentz (BioMERA PI), Dr. Simone Lemmers (Postdoctoral fellow at STARC, CYI), Yuko Miyauchi (PhD student at STARC), Sila Kayalp (PhD student and BioMERA Research Assistant)

 

                                                                                                                                                      Nicosia, 04 May 2020

During the last weeks, the BioMERA consortium has been keeping with governmental and institutional guidelines to combat the COVID-19 outbreak. We have been able to continue to make progress during the confinement and we thank all our team members for their courage and resilience during these difficult times. 'Working from home' has been implemented as much as possible and virtual meetings have become the new order. As of the 4th of May, Cyprus is entering into a new phase of managing the pandemic, and so is the BioMERA consortium. We will continue to safeguard the wellbeing of staff members and project partners, and continue with our project with the safest measures possible. For now, the CyI team continues their home office policy. We wish everyone a positive continuation of your activities.

 

Stay well, stay safe! 

Best regards, The BioMERA CyI team

 

 

 

BioMERA During COVID-19
BioMERA continuing during COVID-19: An impression of the first BioMERA team Virtual meeting. From top to bottom, left to right: Bianca Casa (CyI PhD student), Sila Kayalp (BioMERA RA and PhD student), Yuko Miyauchi (CyI PhD student), Natalie Branca (CyI PhD student), Dr Simone Lemmers (CyI Postdoc), and Dr Kirsi Lorentz (BioMERA PI).

20 March - 2020 

Along with the rest of Cyprus, the BioMERA consortium is currently adapting to the new COVID-19 situation. In accordance with governmental guidelines to combat the COVID-19 outbreak, operations at The Cyprus Institute (BioMERA Host Instituion) will continue with only essential staff on its premises. The BioMERA project will continue its activities as usual, to the extent possible, with necessary adaptions to align with governmental and CyI guidelines. With that, we are doing our utmost to keep our project staff members and project partners safe. Shifting our work from laboratories, studios, enterprise facilities and offices to home-settings will present some challenges, but also opportunities. Further updates or changes to the situation will be communicated. Wishing you all successful and fruitful continuation of your activities  Stay well and safe!  

Best regards,

The BioMERA Cyl team.