---

Cyprus Institute of Neurology and Genetics was established in 1990, as a bi-communal, non-profit, private, academic, medical center. The vision of CING is to function as an international centre of excellence and a regional referral centre in the areas of neurology, genetics, biomedical, medical and other similar and related sciences. The mission of CING is to develop and provide high level medical and clinical laboratory services, develop and pursue advanced research and provide education in the areas of neurology, genetics, biomedical, medical and other similar and related sciences. Its ultimate scopes are to improve and upgrade the quality of life of all Cypriot citizens, irrespective of religion or national origin, and strengthen its international role in the areas of its specialty. Cyprus is known to have an increased frequency of inherited disorders, which place a heavy burden on the patients' families and the government. CING provides specialized services and research which aim towards early detection and prevention of disease, the provision of high quality medical services and in general improvement in the quality of life of the community. CING is dedicated to lessening the suffering of patients and their families and preventing diseases through patient care, research and educational programs on neurological and genetic conditions such as muscular dystrophy, multiple sclerosis, epilepsy, chromosomal abnormalities and all other aspects of molecular biology and genetics such as thalassaemia, molecular virology, mental retardation, cardiovascular disease, stroke, cystic fibrosis and neurogenetics. Moreover, CING plays a key role in the fight against crime by providing specialized DNA services to the police authorities and expert court testimony for criminal and civil investigations. The Institute provides services, upon request, to all doctors, clinics, hospitals, lawyers and the police authorities. A unique feature of the institute is the combination of services and research. In biomedical sciences and medicine the ultimate aim of research is to solve medical problems and improve the health and quality of life of the community. Services provide opportunities for research. The bigger the volume of services, the greater the opportunity for the scientists to come in contact with clinical problems; also the bigger the volume of material available for research, the higher the possibilities of attracting major research grants. With major grants, better solutions to clinical problems can be found, resulting in the provision of higher quality services. Thus, both service and research enter into a positive feedback loop. The result is a centre of excellence. Several of the research and teaching programs of CING are in collaboration with institutions and universities from Cyprus and abroad. CING operates the only transmission electron microscope available in Cyprus which offers a centralized ultrastructural diagnostic service in histopathology, that contributes to the correct histopathological diagnosis of many diseases. More than 30 genes can be currently analyzed for familial cancer predisposition. In addition, the department offers molecular analysis of certain key genes such as EGFR and K-ras, that are important for selecting the most appropriate therapy, for the targeted treatment of oncological patients.
---
Key Personnel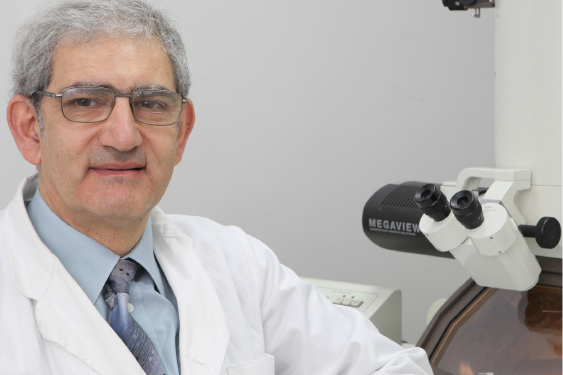 Prof. Kyriacos Kyriacou is the founder and head of the Department of Electron Microscopy/Molecular Pathology (EM/MP), and professor and dean of the Cyprus School of Molecular Medicine. He is the founder and head of EM/MP department and was instrumental at obtaining funding for purchasing the first and only electron microscope available in Cyprus. K. Kyriacou obtained his BSc Honours degree, in Biochemistry/Physiology, from the University of London in 1977, and his PhD from the Faculty of Medicine, Department of Oral Pathology, King's College Schools of Medicine and Dentistry in 1982. In 1983 he was appointed lecturer in biochemistry, in the Medical School at King's College Hospital, London. In 1991 was appointed senior scientist, at CING. His main research interests include the genetic epidemiology and molecular pathology of cancer, with emphasis on breast cancer genetics. He was instrumental in characterising the spectrum of mutations in the BRCA genes in Cypriot families and also obtained substantial funding, towards the establishment of the first electron microscope department in Cyprus. His group has carried out the largest epidemiological study on breast cancer in Cyprus and has identified factors which lower the risk of breast cancer in Cypriot women such as the mediterranean diet. Through this research unique mutations were also identified in Cypriot families, in BRCA1 and BRCA2 genes and these results led to the establishment of an important cancer genetics service for the whole Cyprus population. Recently he has obtained major funding for establishing the first and only translational facility consisting of genomics and proteomics platforms at CING. He has co-ordinated more than 50 research projects, has obtained more than 8,000,000 euros in competitive funding and has published more than 120 articles, in peer reviewed journals. He represents Cyprus in several societies and advisory committees in Europe. He has served as the representative of Cyprus, in the EU-COST programme, in the BMBS (Biomedicine and Biomolecular Sciences) domain. He is an active member of the electron microscopy working group which is part of the European Society of Pathology and a consultant of ESMO on genetic educational courses. He serves as a reviewer for several scientific journals and research funding bodies. Professor Kyriacou has organized several scientific conferences, at both national and international levels and has been invited to deliver many lectures both locally and at international conferences. He has graduated 5 PhD and 20 MSc students, and is currently supervising 5 more.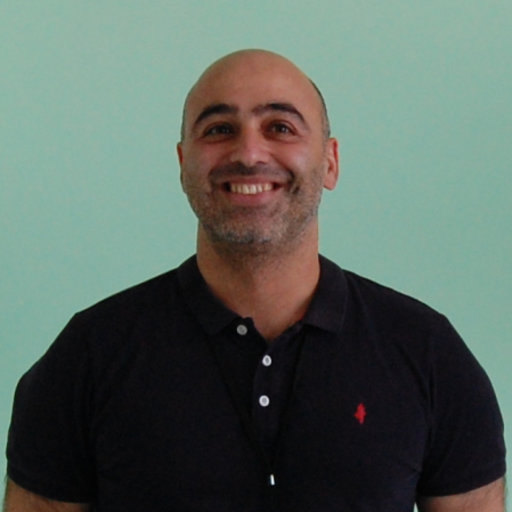 Dr Kleitos Sokratous is a postdoctoral researcher in the bioinformatics group at CING. He holds a PhD in Chemistry with substantial experience in biomolecular MS and MS-based proteomics/ metabolomics. His research interests lie in the areas of biomolecular mass spectrometry and omics as well as in the evolving field of bioinformatics.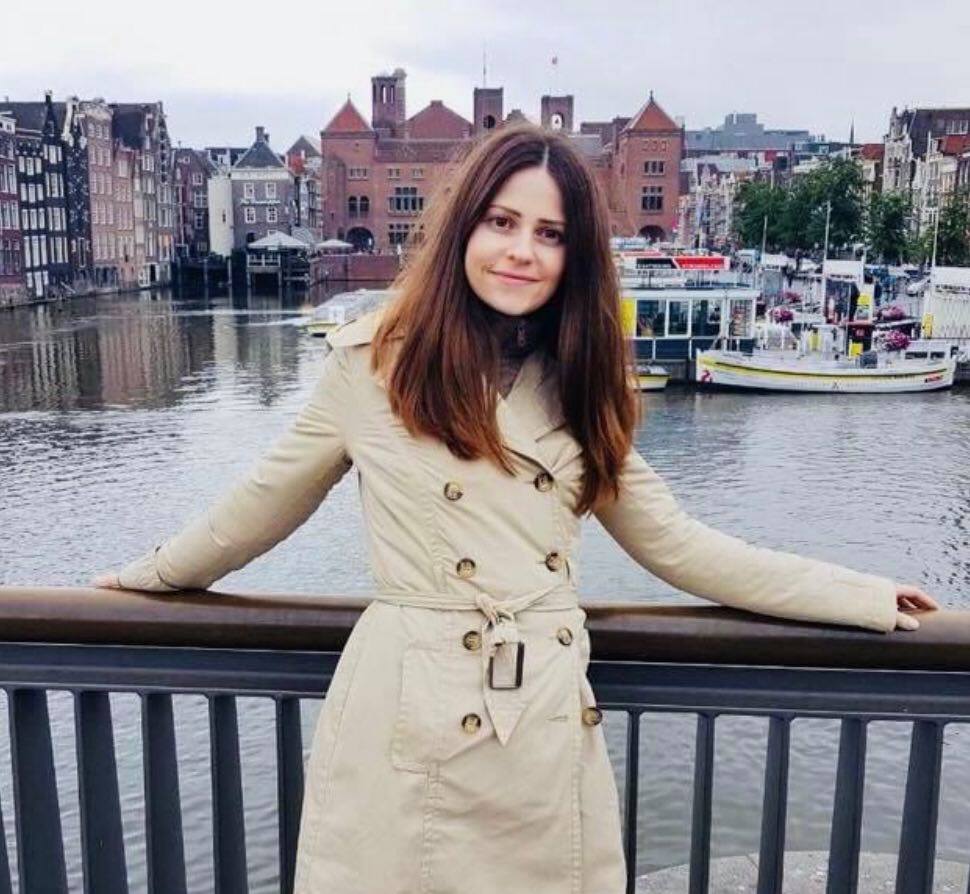 Ms Orthodoxia Nicolaou is a PhD candidate in Medical Genetics at Cyprus School of Molecular Medicine. Her research focuses on the identification of novel protein biomarkers in systemic lupus erythematosus mouse model using proteomic technologies. She completed her BSc in biology from the Ruprecht-Karls-University of Heidelberg Germany in 2011 and her MSc in Medical Genetics from the Cyprus school of Molecular Medicine in 2013. She has expertise in handling animal models, including xenopus and mice. In addition, she has good practical experience with molecular methods such as PCR, real-time PCR, western blotting, and nucleic acid extraction as well as immunohistochemical methods and proteomic analysis.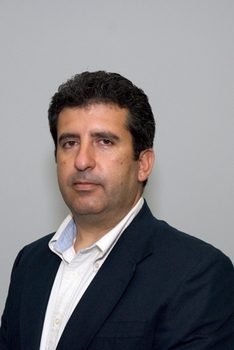 Dr Andreas Hadjisavvas is a PhD holder in Molecular Genetics. He holds the position of a scientist (second to the head) of the department of Electron Microscopy/Molecular Pathology of the HO. Dr Hadjisavvas has the experience, skills and ability to carry through this proposal. He is one of the very first scientists who were hired by CING when the Institute was moved in their new premises in the beginning of 1995. He was instrumental in establishing the molecular pathology laboratory. This included selecting all necessary equipment and organizing a facility for both research and diagnostic purposes. He was responsible for all matters relating to tenders and negotiations with relevant companies, a process that provided him with valuable experience in laboratory structure and organization and funds management. He has substantial experience in the application of molecular genetics as a diagnostic tool in cancer predisposition as well as for advancing our knowledge on molecular mechanisms that underpin complex diseases. He obtained his PhD in 2002 and in 2012 was appointed as assistant professor in the CSMM.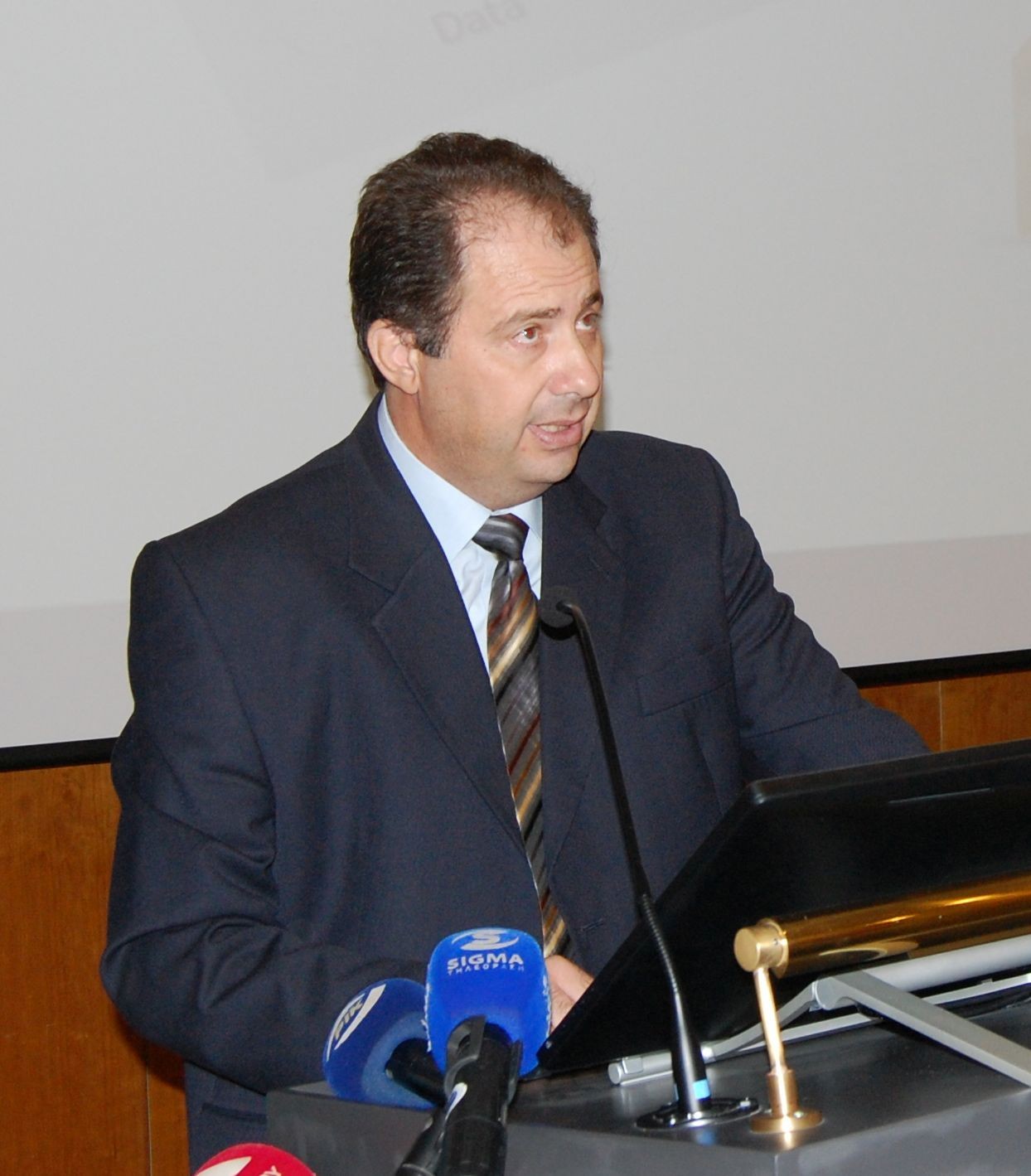 Dr George M. Spyrou holds a BSc on Physics, an MSc on Medical Physics and an MSc on Bioinformatics as well. During his PhD he worked on algorithms and simulations focusing on breast cancer imaging. Early in 1990s Dr. Spyrou started thinking and working on the ways he could apply his knowledge in mathematics and physics on medicine and biology. In 1994 he joined the Medical Imaging Research Group of Prof. George Tzanakos at the Physics Department of University of Athens as Research Associate, working in the project of the small animal PET prototype design and construction. In 1998 he was selected by the Academician Prof. Panos Ligomenides to work at his Lab on a medical image analysis and decision support project concerning the early diagnosis of breast cancer. At the very beginning of the Biomedical Research Foundation of the Academy of Athens (BRFAA), the foundation asked for an informatics-oriented scientist to be responsible for the design and development of the whole informatics infrastructure at BRFAA. Dr. Spyrou was then selected to take this responsibility being appointed as a research scientist of level B. Since 2001 and for over 10 years he worked on the strategic plan and implementation of IT development at BRFAA, acting as the head of the Department of Informatics and New Technologies of BRFAA. Among his tasks was to design, organize and supervise from scratch the whole information technology infrastructure of the institute. Namely, he had been involved in the design and supervision of network infrastructure, computational infrastructure, multimedia infrastructure, data services, web hosting services, administration databases, video/web conference services, e-learning, high performance computing infrastructure. In parallel, he was organizing his research group and was running his own research on bioinformatics and medical informatics. In 2007 Dr. Spyrou was promoted to senior research scientist (Level A) at BRFAA after successful evaluation. Since 2009 he is teaching a full semester course in the postgraduate program "Information Technologies in Medicine and Biology" at the University of Athens. He is also a visiting instructor on systems bioinformatics and network analysis in other two postgraduate courses, namely the Master program on "Complex Systems and Networks" at the Aristotle University of Thessaloniki and the Master program on "Translational Research in Molecular Biology and Genetics" at the Democritus University of Thrace. Further to them, Dr. Spyrou has been instructor at the Greek National Centre for Public Administration and Local Government (EKDDA) for the period 2005-2014, with over 300 lecture hours. Through his teaching activities Dr Spyrou has the opportunity of supervising/mentoring a number of MSc and PhD students. His work includes computational methods that act as bridges between molecular biology, systems biology and molecular medicine, exploiting computational intelligence and high performance computing for multi-omics network analysis, systems bioinformatics and in silico drug discovery. Up to now, he has served as reviewer, invited speaker, chairman and scientific advisory board member in topics related to biomedical Informatics topics while he has authored over 150 scientific publications in peer reviewed journals and international conference proceedings. Since March 2016, Dr Spyrou is the bioinformatics ERA chair holder and the head of the bioinformatics group at the Cyprus Institute of Neurology and Genetics.
---